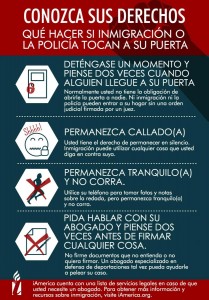 Taller de como preparar a su familia en caso de una separación familiar y Conozca Sus Derechos.
Workshop Know Your Rights and How to prepare for a family separation.
24 de Marzo 5:30pm March 24, 2017 5:30pm
Escuela OCDC Migrant Head Start
265 N Main
Ashland OR 97520
Informes?? 541-840-9669 o uneteoregon@gmail.com or síguenos en Facebook UneteOregon.
Questions?? 541-840-9669 or uneteoregon@gmail.com Follow us on Facebook UneteOregon.